.
OFERTA BOJEROWA
.
.
ZOBACZ TEŻ...

.
---
---
---
PRODUCTION AND SALE OF DN CLASS ICE-BOATS
.
DN ice-boat may easily be compared to a violin. Every single ice-boat is a piece of art.. The manufacture of a high-class DN sports iceboat - fast, of regatta capacity and at the same time meeting strict requirements of measurement authorities - is not an easy task. It requires of the designer excellent ice-boat-building skills, knowledge of wood and advanced technologies. Mr Andrzej Gotowt has been building ice-boats for 20 years.
His experience and skills make him the best in the business..
GOTOWT SPORT - ALL YOU NEED FOR ICE-BOATS
GOTOWT SPORT as one of very few companies produces professional, regatta ice-boats of DN class, protective covers and special BOJERY DN uniforms.
DN Iceboat
.
TECHNICAL DATA:
hull: made of top-class wood - seasoned in natural conditions for 7 years; 'sandwich' method is applied for hull-building
gluing: West System Epoxy - SP System
wood: pine, spruce, oak, ash, mahogany (deck and inserts)
hardware: made of Swedish acid-proof steel
runner plank: - telescope-method made - springy, aluminum jaws
mast - aluminum
rigging: Swedish string wire-rope, cleats - Swedish steel
sail: regatta version 300g, 2 windows
boom: glued wood
runners: made of Swedish steel
ATTENTION: The following DIY finishing/completing kits are also available:

hull (no hardware)
hull (no hardware) + runner plank (no jaws)
hull (including hardware and rudder) + runner plank (including jaws) + complete boom + mast including rigging.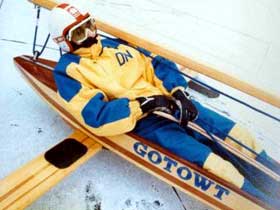 Gotowt Sport
Information and queries regarding sale - by e-mail only:
tel.+48 56 621 06 81 tel./fax +48 56 622 63 19